Wrought iron fence contractors in Beaverton, Oregon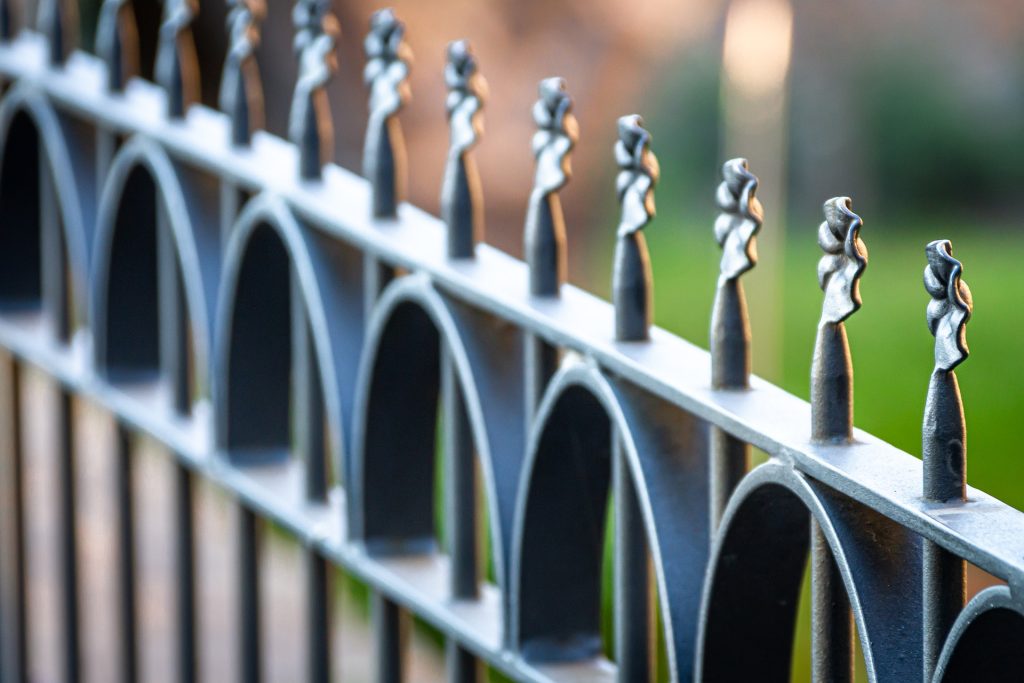 If you are seeking for a dependable fence installation, our Beaverton fencing company delivers a wide range of services. That includes wrought iron railing and fence building and repair.
We take immense pride in offering our customers in greater Portland, OR high quality workmanship done by licensed and insured contractors. We produce elegant and structurally sound fencing using modern wrought iron materials, equipment, and methods.
Our company promises to meet your expectations in terms of tastes, needs and budget. You can expect the very best from our team, starting with a free estimate and affordable, upfront pricing. As a family owned and operated organization, we have been around for more than 20 years and have an excellent reputation in the community.
Contact us today to learn more about our fencing services in Beaverton, North Plains, Forest Grove, Hillsboro, Aloha, Tigard, Lake Oswego, Somerset West, Cedar Hills and other nearby areas in Oregon.
How does wrought iron fencing look and how is it different from chain link fence?
Wrought iron fencing is a traditional and natural look for your home or business property. This style has been around for hundreds of years, which means it is a tried-and-true option that will withstand the test of time.
Wrought iron fencing material is hand-welded from iron bars, each of which are made with a different pattern and thickness to give it the look of being one solid piece. This makes wrought iron fencing a durable option that can withstand strong winds and other weather conditions for years to come.
Which type of wrought iron fencing or railing would be best for my yard or garden?
The look of wrought iron fencing depends on the style you choose. Our team can help you find the right type for your property. Chain link and wood fences are often used in yards or gardens with high traffic, while ornamental iron fencing would be more appropriate for a private yard or garden.
Are there any drawbacks to using wrought iron fencing?
Wrought iron fencing is a high-quality option that has stood the test of time. Wrought iron fences can withstand strong winds and other weather conditions for years to come, which means they are one of the most durable options available.
Free estimates for metal fencing, gate, and railing services
We offer a variety of fencing materials to pick from. One of the most requested is wrought iron. The material is a favorite due to its natural beauty and sturdy make. Wrought iron is one of the most durable and frequently used materials for fences in the USA as it can be used for gates, railings, and even indoors for staircases.
Our team uses commercial grade fencing, which allows us to offer long-lasting warranties. Wrought iron fencing, like any other metal product, is a bit pricier than wood, composite or vinyl. However, it is one of the best choices for your home or business property as it has many advantages.
Once installed, wrought iron will not require any repairs for decades to come. If you have been longing for an ornamental iron look for your home or business property, you are in good hands with our crew.
In addition to a no-cost consultation, we're ready to help you with planning a fence design and thoroughly assisting you throughout every step of the way with your home improvement project. We also are happy to deliver repair and replacement services for all fencing.
We are available to answer all your questions and are dedicated to delivering a beautiful and quality iron fence.
Affordable residential and commercial fencing repair and installation
We deliver various dependable residential and commercial fencing services in and around Beaverton, OR. As a home or business owner, we provide you access to a range of materials and designs to choose from. We help our clients secure and complement their property.
With that being said, we know you have options when it comes to selecting a local fence installer. A few of our competitors in the area even have okay enough reviews on Google, Yelp and Facebook. So why hire us? Here's five good reasons.
We deliver exceptional service at competitive rates.

We offer the highest level of customer service, putting your worries at ease.

We work on your schedule and promptly to get the work done according to deadlines.

We are a versatile company that can help you repair and install fences and gates made of chain link, wood, vinyl, aluminum, wrought iron, and more.

We're friendly, hard-working folks like yourself who will greet you with a smile and treat you with respect.
Get in touch at your convenience to learn more about our company and to get your free quote.
Call us today at 503-924-7627