Call us today for a free no-obligation quote for all your fence installation and repair needs in Beaverton, Oregon.
Fencing, Fence Installation in Beaverton, Oregon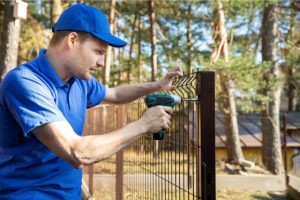 The top benefits of fence installation by hiring our Beaverton Fencing Company involve the improved appearance and security of your property. 
Custom-built fences can help improve the look of your property by either covering up the lack of landscaping and enhancement on your part or improving landscaping to match the fence design.
Custom fencing systems can also improve the security of your home by providing an extra layer of protection between you and your neighbors.
When it comes to the aesthetic and safety of your home, our reputable fencing company can provide you with a range of options that are guaranteed to meet your particular needs. 
With our knowledge of the best types of materials to use, along with a comprehensive range of options in every category, we can transform any outside space into a functional and aesthetically pleasing extension of your home.
BEAVERTON FENCE INSTALLATION SERVICES
The benefits of hiring our Beaverton Fence Contractors:
We work with some of the best-skilled contractors in the industry. We have many years of experience and are able to take on any size fencing project you have. 
Custom security fencing provides greater privacy, as well as greater visual impact. It can also block out unwanted noise, which can reduce the risk of assault and excessive noise among neighbors.
For added functionality, there are many options available for fencing systems. Custom-built fences are designed to suit your specific requirements and can be made with durable materials that are manufactured to withstand high winds, adverse weather conditions, and even fire hazards. Some fencing can also be installed on different levels and slanted at different angles.
When it comes to choosing the right fencing for your property, there are a number of factors that need to be considered. The top benefits of hiring our team include improved privacy, improved security, reduced safety concerns, and improved landscape.
By having your fence professionally installed, you can rest assured that you are getting the best possible material and design. You can also choose between different styles and structures. 
Whether you are looking for a privacy fence, fencing that will provide added security, or a simple structure, a professional fence company will ensure that you get what you are looking for.
You can be confident that you will get the most optimal results when choosing a professional company to help you install your custom-made fence. Our reputable fencing contractors can help you achieve a better aesthetic appeal and enhance the overall appearance of your backyard or garden area.
We specialize in fence repairs, custom gate installation, railing solutions, and custom fence installation. We also partner with a tile contractor in Beaverton if that's what you need. You can enjoy the peace of mind that comes with choosing a professionally-made product.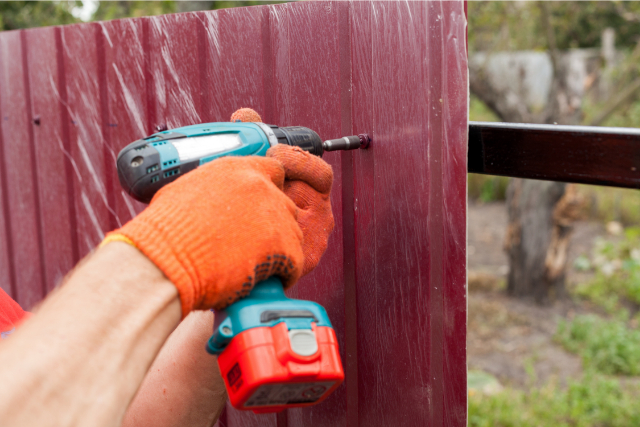 For many homeowners and business owners, the decision to hire our professional fencing contractors is one of the most important that they will make in their lives. 
Whether you have just purchased a home or have a large industrial building or business property that needs to be partitioned off. 
It is very important to have a professionally installed and maintained fence for added security.
With our best fencing contractors Beaverton has to offer, you can be confident that your property and those of your family and employees are safe from intruders, fire, and weather. 
A well-maintained fence will also increase property value, enhance the safety of your business or place of work, and attract new customers. Here are some reasons to hire a fencing contractor:
As mentioned before, the main reason for needing fencing is to keep unwanted people out. 
The last thing you want is for criminals or others of an undesirable nature to enter your property, take away belongings, or harm employees and you need to have the work done quickly.
Hiring a qualified contractor to complete the job of fencing professionally will ensure that you do not have to spend additional time having it done. 
You can get the fencing done as soon as possible, in less than a day with no hassle.
In addition, hiring contractors to erect and install your fence provides the ultimate peace of mind. 
Knowing that your property and those of your employees are protected by a solid fence will eliminate unnecessary stress and anxiety. 
Adding a patio or garden around a fence installation can add a nice feature to the property as well as enhance the overall look of the fence. 
A fence can be designed and installed so that it will make an appealing feature on your property. Landscaping can make your fence looks more attractive.
If you currently do not have a secure fence installed, this will also help to eliminate some of your concerns.
No matter what kind of fence you need installed, you will be assured that it is sturdy and will protect your assets from any potential danger.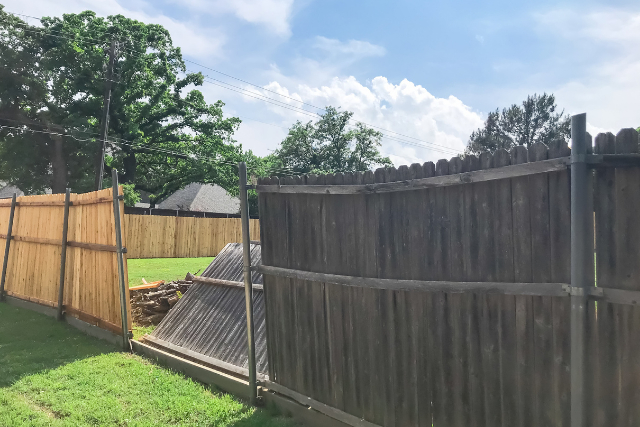 Wooden fences are a classic addition to any yard and for good reason. They offer the advantages of an attractive, cost-effective, and long-lasting material. 
If you are thinking about a fence repair or replacing your fence on your property, there are many considerations that must be addressed before you make your final decision. 
Wooden fencing is easy to install with our contractors and can be customized in any way to meet your goals and style. Here we will explore the benefits and features of this popular fencing product.
The Four Benefits Of Wooden Fences. One of the main reasons that people choose wood as the material for their fence is because of its durability. 
It is easy to stain which gives it many choices for varying fence applications. If you have an area that is susceptible to weather and harsh elements such as heavy rain, or strong winds, a wood fence is an excellent choice.
Wood's aesthetic appeal is also appealing to many people, making it easy to match the fence to the existing style of the home or business. 
The cost-effectiveness and easy installation make it a great choice for a fence.
Wood is available in different types and styles to meet your needs. From ornate to simple, rustic to modern, you are sure to find a design that will complement the look of your home. 
You can customize the fence to fit your needs by choosing a pre-built fence or have us build one from scratch.
Wood is easy to maintain. No matter if you decide on a wood fence that is pre-built or one that we build from scratch, it can be cut, carved, bent, sawed, and drilled. 
You can also stain, paint, or re-polish it to make it more attractive.
A wooden fence offers many advantages over other options such as chain link, vinyl, and metal. It looks better, is more secure, and can last longer without damage. 
However, while a wood fence is more aesthetically appealing than metal, vinyl, and chain link.
The key benefit of using wood is the aesthetic appeal of the fence. Wood has a unique grain pattern that some people find very pleasing. 
Panels made from wood look very sharp, while metal panels often look blunt. 
While the panels may become blunt over time as the metal bars age, the panels can always be painted or stained and the fence will look new for years to come.
Our crew of highly skilled fence installation professionals will provide you with a free no-obligation quote! 
A Glimpse Of Our Fence Installation Projects
BEAVERTON RAILING SOLUTIONS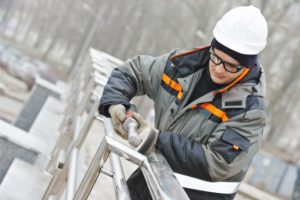 If you have an outdated outdoor living space, deck railings can completely transform the space into a relaxing retreat for you and your guests. Decking rails come in a variety of materials including wood, metal, and even plastic. 
Deck railings can be decorative and functional or plain and simple, so many homeowners are choosing new deck rail designs to update their outdoor living space.
Metal and glass deck railings are easy to install and come in a wide range of colors, sizes, and styles. For the best selection, go with decorative deck railing ideas that do not take away from the beauty of the deck. 
Whether you want a traditional look or something more contemporary, you are sure to find the perfect outdoor deck railing for you.
Wood is a popular choice for outdoor living space decking. While it can be quite costly, there are several creative deck railing ideas that will make this addition inexpensive and easy to do. Do you want a very upscale look?
Get wood that will blend well with your outdoor space and remember that darker-colored woods are more elegant. If you are a fan of more rustic or wooden accents, consider getting pinewood railing ideas.
If you have a large area that you are planning to deck, the best deck railing idea that you can get is metal railing systems. This material is easy to install and comes in a number of different colors and styles, including iron, and aluminum. 
There are even hand-scraped finishes that will bring out the character of your home.
Wrought iron and aluminum railing can also be used for creating the perfect deck. However, wrought iron has a longer-lasting effect, so this material is better suited for outdoor purposes. On the other hand, the aluminum railing can be used for indoor purposes as well.
Plastic deck railing materials are also widely used by many people as these materials can be easily installed and they do not have to worry about the weather. Wood deck railing materials are more durable, and they will last for long, but this kind of material can't be installed without any professional help.
The maintenance cost of these materials will also differ depending upon the materials used. You should always try to use the highly recommended materials for maintenance because they will last longer and will give a better result as compared to the cheap materials.
However, if you are purchasing the materials online then it will be difficult to check the materials before buying so you can take the help of our experienced people who will guide you properly.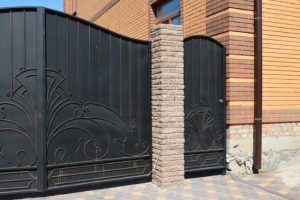 Adding a wrought iron or steel fence and the custom gate is a great idea to beautify your surroundings and provide a feeling of safety and security. 
The fence and gate will add value to your property and it is also a practical investment as well.
It enhances the curb appeal of your home and provides a sense of security. When you choose wrought iron, steel, or aluminum, there are plenty of design options available to suit your taste and needs. 
They are durable and long-lasting and adds a lot of value to your property.
With custom wrought iron and steel fences, you have iron that is pressure treated so that it does not crack or break in extreme weather conditions. The fences and gates made of this metal resist rust and give you years of rust-free service. These fences are very attractive and come in several designs and colors.
There are plenty of benefits to having custom wrought iron and steel gates installed in your home. There is no reason to sacrifice style for cost when you can have the look and security of iron fencing. You can get great designs that can fit into any area of your yard.
There are custom steel and iron gates that have elegant ironwork and trim on the top and sides of the gates. You can also get custom wrought iron and steel fencing with beautiful wood gates.
If you have a large space, you can have a gate made to fit your needs. For smaller spaces, you can have a gate that will accentuate your yard while still giving you privacy. This type of fencing can also be used for decorative purposes. 
When you have wrought iron fencing around your pool, you will be adding value to your home and the property while protecting it at the same time.
You can choose from gate styles that have a French or Spanish look to them and even ones that have an English look to them.
There are so many benefits to having a wrought iron or steel gate built for you. It's important that you protect your property and you want to choose a gate that will provide you with a good amount of protection while still letting people get into and out of your property.
Fences made out of wrought iron and steel are just the perfect choice for this. They are strong and will provide you with a great deal of security while at the same time letting you enjoy the landscaping of your yard.
WHY CHOOSE OUR BEAVERTON FENCE INSTALLATION CONTRACTORS?
When you hire our team, you can rest assured that we will be equipped with the proper equipment and training to handle any obstacles that may present themselves on your property. 
Fence repair and replacement can be a very difficult and complicated task if you do not hire professionals with experience and knowledge of the task.
There are many options available to you when it comes to fencing your property. You may want to choose wooden fencing, metal fencing, a gated fence, a privacy fence, or a combination of several different options. Each has its own unique set of benefits that fence contractors can help you decide upon.
Wooden fencing: 
It provides a traditional, welcoming appearance to any residence or commercial site. These fences are known for their timeless appeal, and charm, as well as their simplicity and durability. Wood fencing is the perfect choice if you are looking to enhance the exterior appeal of your home or building.
There are numerous styles and types available to you, so you will be able to find something that perfectly suits the look you are trying to achieve. 
Your new fencing will not only provide you with a strong barrier that can keep unwanted visitors out, but it will also add to the beauty of the overall landscape.
Metal fencing: 
These fences can be installed with ease and can add an attractive and welcoming feature to your garden or estate. Fences made from this material are popular because they require little maintenance and they are long-lasting. 
If you decide to erect a metal fence, it is important to hire professionals that are experienced and skilled in the process. Options include chain link, wrought iron, and ornamental aluminum.
Vinyl fencing:
It is relatively inexpensive when compared to other options and is extremely easy to install. If you decide to install vinyl fencing, it is essential that you use our professional team.
Whatever type of fencing you have chosen, it is very important that you keep your properties safe and secure from potential burglars. It is also essential that you have an effective and efficient intruder detection system in place to ensure that your property and family are kept safe and sound.
If you were to do this on your own, you could find yourself spending thousands of dollars on the wrong products that would not only cause delays in getting your fencing installed but also cause you to incur extra costs on top of the installation costs.
Call us today at 503-924-7627